Online course designed for high school students
Astrophysics and Evolutionary Biology: The Origins of Life
Do the wonders of the universe follow a pattern? Does the way stars are born share something with the way life evolves? This course gets to the heart of the matter. Whether you want to major in a STEM subject, pre-med or seek a future in law or journalism, a good background in science is key. Take the ultimate tour of the Cosmic Zoo: from the Big Bang, to emergence of life on earth, from solar system to ecosystem. Along the way you'll meet dinosaurs, nanoscience, mutant viruses and exoplanets and explore the depths of human consciousness.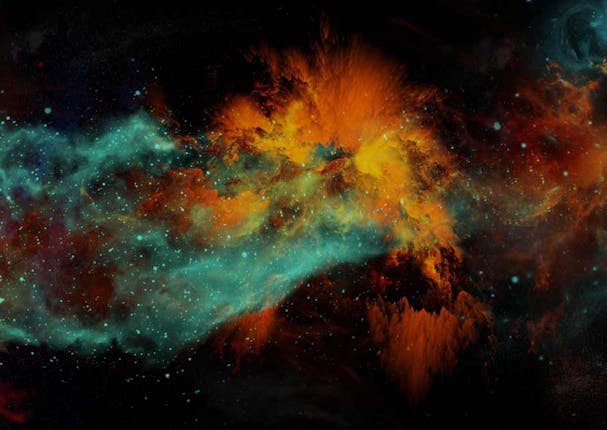 From the Macrocosm to the Microcosm
Stars, Planets and Black Holes
White dwarfs. Neutron stars. Black holes. Study remnants left behind when stars and planets run out of fuel. How did life arise in this symphony of forces?
Tour of the Solar System
From the sun to the asteroid belt to the outer-reach planets, travel our cosmic neighborhood, coming to rest on the pale blue dot we call home.
The Origin of Life
Identify the biology of the first lifeforms? What are the parallels between our solar system and others? How do we search for life on distant planets?
Dinosaurs, Evolution and Extinction
Witness the rise and fall of prehistoric creatures such as dinosaurs, trilobites, and flying reptiles. Experience evolution from the triumph of species to their mass extinction.
Origins of Humans
Meet your ancestors. Get acquainted with the early humans from whom you arose. Learn how our species evolved and what makes us unique.
Prepare for a Future in Science
Topics covered in this course offer a good background for potential university study in physics, astronomy, biology and evolution and science writing.
How You Will Benefit
Get deep insight into the way scientists think and learn to apply their principles in your own schoolwork.
Acquire the background you need to research future majors in STEM, the individual sciences, medicine, psychology — and any profession that requires innovative thinking such as law and entrepreneurship.
Develop a basic understanding of the origins and evolution of the universe.
Learn asynchronously: Lessons by your professor are delivered as videos so that you can tune in whenever your schedule allows — the ultimate in flexibility
Earn a Certificate of Completion from Case Western Reserve University.
Apply Now for the Next Available Course
We currently have no available cohorts. Please check back for more cohort options in the coming months.
Hear from Case Western Reserve University
3 Learning Advantages Designed for You
Flexible Learning
100% online, works with your schedule
20 to 25 hours of total instruction and course work, including engaging multimedia, simulations, and curated assignments for which you will receive guidance and support
A flexible format: You'll learn through engaging video and can tune in anytime that works for you.
Engage with students from around the world
Mentoring
You'll receive guidance from a mentor who can answer questions and provide support throughout the course. You can expect:
Encouragement and direction on all assignments
Inspiration, motivation and confidence to help you succeed
Brainstorming and ideation help as you prepare for your final project
Final Project
The course culminates in a final project in which you will:
Design a board game or poster inspired by the topics covered in the course
Present the project of your preferred medium
Receive feedback from your mentor on your work
Course designed by Case Western Reserve University Professors
Dr. Patricia Princehouse
Director, Program in Evolutionary Biology
Princehouse earned her MA from Yale and a PhD from Harvard University. Concentrating her scientific work on primate evolution, she has completed museum and fieldwork in North America, Europe and Africa. Recently, she has turned to the digital organisms of "artificial life" programs as a way of testing elements of evolutionary theory. Her work has won wide recognition including Ohio Magazine's Educational Excellence award.
Dr. Glenn Starkman
Distinguished University Professor and Co-Chair, Dept. of Physics, Professor of Astronomy, Director of the Institute for the Science of Origins and of the Center for Education and Research in Cosmology and Astrophysics
Starkman's an alumnus of the University of Toronto with a PhD from Stanford University. His research career took him to the Institute for Advanced Study, Princeton, and the Canadian Institute for Theoretical Astrophysics before bringing him to Case Western Reserve. In 2003 Starkman was awarded a prestigious Guggenheim Fellowship. He was among the founding board members of the Reinvention Center, a national center focusing on undergraduate education at research universities.
Course Mentors
Katherine
Case Western Reserve University graduate with a major in Evolutionary Biology and Origin Sciences. Currently pursuing an MS in Anatomy and Vertebrate Paleontology at Oklahoma State University.
Luke
Case Western Reserve University graduate of the Origins Science program and the Astronomy program.
How to Apply
It's easy. No transcripts or letters of recommendation are required. Our application will ask you to provide the following:
Basic contact information for you and your parents or guardian.
Why you wish to take this course. You can tell your story through writing, video, photos — any media you prefer.
Note: Please submit all application materials in English.
Begin the guided process. It should take only a few minutes of your time to answer the questions.
Apply Now
Want to Know More?
Sign up for more information and we'll be in touch.
Admissions
Our application is easy. You can expect a prompt decision.
Apply Now
Frequently asked questions
How will you be graded? What are assignments like? Are there required materials? How much time do you get to turn around a project? When do you found out if you're accepted?
Find answers to your questions
Scholarships
We offer need-based pre-college program scholarships in each cohort to students who need assistance with the program cost. The scholarship application is a part of the overall program application. 
If you would like to be considered for a scholarship but you:
The University reserves the right to modify the course as may become necessary.