Online course designed for high school students
Social Entrepreneurship: The Business of Helping Others
Do you have an entrepreneurial mindset and want to make a difference? Then this online course in social entrepreneurship is a must. Discover how social entrepreneurs get started, build a value proposition, find customers, identify problems, come up with solutions and create a team.
This course is ideal for future business majors, budding entrepreneurs and anyone with a social conscience.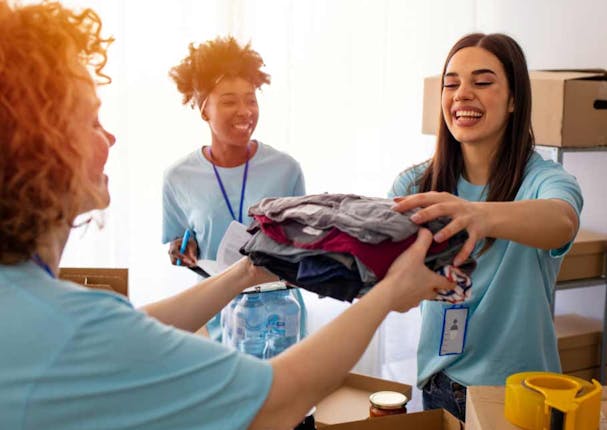 Learn how to do good by doing business
What is social entrepreneurship?
Learn how social entrepreneurship differs from philanthropy and nonprofits. Practice writing a value proposition: pick a favorite brand, identify its value prop, and write your own.
Know your audience
Understand how social entrepreneurs identify customers, and how they fit into the value proposition. Study a successful social venture. Determine how it serves its audience.
Identify pain points
Discover how social entrepreneurs target a problem. Use the UN Global Goals for Sustainable Development, and list  5 problems in your community that social entrepreneurs could solve.
Be a creative problem solver
Explore how social entrepreneurs solve problems differently than nonprofits and charities. Create your own solution to a problem, describe how it is unique and test its validity.
How to build a social entrepreneurship team
Determine what skills and assets your team needs. Show how your value proposition works to guide problem solving. See how successful social entrepreneur teams accomplish goals.
Prepare for a future in social entrepreneurship
Topics covered in this course offer a good background for those thinking about pursuing a future in business, entrepreneurship or cause-related government or non-profit careers.
How You Will Benefit
Discover how a social entrepreneurship differs from NGOs, charities, government programs and not-for-profit groups.
Be able to create a value proposition.
Identify the ideal customer for a social entrepreneurial business and the pain points your product or service addresses.
Know how to assemble a team of people you'll need to ensure that you meet your goals.
Learn asynchronously: Lessons by your professors are delivered as videos so that you can tune in whenever your schedule allows—the ultimate in flexibility.
Earn a Certificate of Completion from Case Western Reserve University.
Apply Now for the Next Available Course
All course options, whether 2 or 4 weeks, have the identical educational content, learning materials, and number of assignments. The difference in length of course is due to time of year (not amount of instruction). We know the school year keeps you busy, so we've made the course longer during that time so that you can get assignments done.
Hear from Case Western Reserve University
3 Learning Advantages Designed for You
Flexible Learning
100% online, works with your schedule
20 to 25 hours of total instruction and course work, including engaging multimedia, simulations, and curated assignments for which you will receive guidance and support
A flexible format: You'll learn through engaging video and can tune in anytime that works for you.
Engage with students from around the world
Mentoring
You'll receive guidance from a mentor who can answer questions and provide support throughout the course. You can expect: 
Encouragement and direction on all assignments
Inspiration, motivation and confidence to help you succeed
Brainstorming to help as you prepare for your final project
Final Project
The course culminates in a final project in which you will 
Create a value proposition for your own Social Entrepreneurship
Be able to analyze the value propositions in the social entrepreneurships we've studied 
Get feedback from your mentors on your work
Use video, text, or a presentation to complete your project
Course Designed by Case Western Reserve University
Michael Goldberg
Associate Professor, Design & Innovation
Goldberg is an experienced venture capitalist and entrepreneur whose teaching is focused on the fields of entrepreneurship and early-stage finance. Goldberg is an associate professor of design and innovation at Case Western Reserve University's Weatherhead School of Management. Goldberg is also the inaugural executive director of the university's Veale Institute for Entrepreneurship.
Megan Buchter
Director, Fowler Center for Business as an Agent of World Benefit 
Buchter has been part of the Fowler Center for over 10 years, first as a student volunteer while pursuing her Case Western Reserve undergraduate degree in economics where she participated in the Second Global Forum for Business as an Agent of World Benefit held in June 2009. Then, Megan returned to the Fowler Center as a graduate assistant while completing her Weatherhead School of Management MBA. During that time, she was named one of the inaugural Fowler Family Fellows, supporting the Third Global Forum and co-authoring the teaching case "Food Donation Connection: Profitably Scaling Food Waste Reduction."
Course Mentors
Patrick
CWRU undergraduate majoring in business management.
Kelly
Undergraduate at CWRU studying economics and chemical biology with minors in medical anthropology and public health. Member of the Resident Hall Association, Period (advocates for menstrual equality), and the Advocates for Cleveland Health.
How to Apply
It's easy. No transcripts or letters of recommendation are required. Our application will ask you to provide the following:
Basic contact information for you and your parents or guardian.
Why you wish to take this course. You can tell your story through writing, video, photos — any media you prefer.
Note: Please submit all application materials in English.
Begin the guided process. It should take only a few minutes of your time to answer the questions.
Apply Now
Want to Know More?
Sign up for more information and we'll be in touch.
Admissions
Our application is easy. You can expect a prompt decision.
Apply Now
Frequently asked questions
How will you be graded? What are assignments like? Are there required materials? How much time do you get to turn around a project? When do you found out if you're accepted?
Find answers to your questions
Scholarships
We offer need-based pre-college program scholarships in each cohort to students who need assistance with the program cost. The scholarship application is a part of the overall program application. 
If you would like to be considered for a scholarship but you:
The University reserves the right to modify the course as may become necessary.