Online course designed for high school students
Biomedical Engineering: An Introduction to Medicine's Future
Are you interested in how tech innovations have greatly improved the science of medicine? In this course, you'll learn how the thriving discipline of biomedical engineering helps solve medical problems. You'll delve into its range of related fields, discover the nuances of biocompatibility and explore artificial intelligence's increasing impact. Learn how engineering and design help advance medicine, and consider whether this course could lead you to a college major or career path in medicine or biomedical engineering.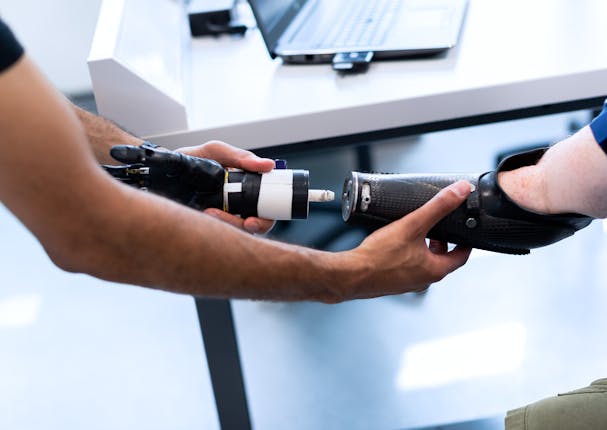 See how medicine and engineering drive meaningful advances
Get an Overview of Biomedical Engineering
Review the history of the field, its relationship to medicine and other engineering and science disciplines, and ways biomedical engineering helps address some of the toughest medical challenges.
Learn How the Body Moves and Works
Study the basic anatomy and physiology of how the body moves, including skeletal, muscular and nervous systems. See how motion-capture technology measures movement. 
Explore the Meaning of Biocompatibility
Investigate how the immune system reacts to different materials. Learn what characteristics make an item a biomaterial, such as polymers, metals and ceramics. Study biological effects like clotting.
How to Measure and Analyze the Body: Computers, Imaging and AI
Explore the technologies that enhance our understanding of body functions like muscle and brain activity. See how AI, sensors and signal processing can record and capture information.
Envision the Future of Biomedical Engineering
Examine how today's biomedical engineering (BME) technologies will become as "everyday" as hip replacements. Delve into neural interfaces, wearable and implantable devices, and regulations around BME.
Review College Majors and Careers in Biomedical Engineering
This course offers insights into the types of careers for those with a degree in BME, such as doctor, medical AI engineer, biomedical scientist/researcher, rehabilitation engineer.
How You Will Benefit
Be able to define the fundamentals of biomedical engineering
Discover BME's role in science and medicine 
Be able to discern how the immune system reacts to different materials, including biomaterials
Know how BME merges engineering and scientific disciplines to solve medical problems
Gain the knowledge to identify broad areas of the field, such as physiology, biometrics, instrumentation and measurement, biomaterials, and biomedical computing
Be able to demonstrate the engineering design process, from assessing user needs to conducting verification and validation testing
Earn a Certificate of Completion from Case Western Reserve University
Apply Now for the Next Available Course
December 17 - December 31
Biomedical Engineering: An Introduction to Medicine's Future
Length: 2 weeks
Cost: $995
Application Deadline: Sunday, December 10, 2023
May 5 - June 2
Biomedical Engineering: An Introduction to Medicine's Future
Length: 4 weeks
Cost: $1295
Application Deadline: Sunday, April 28, 2024
June 9 - June 23
Biomedical Engineering: An Introduction to Medicine's Future
Length: 2 weeks
Cost: $1295
Application Deadline: Sunday, June 2, 2024
All course options, whether two or four weeks, have the identical educational content, learning materials, and number of assignments. We provide the option of a condensed version of the course to accommodate students' individual schedules.
3 Learning Advantages Designed for You
Flexible Learning
100% online, works with your schedule
20 to 25 hours of total instruction and course work, including engaging multimedia, simulations, and curated assignments for which you will receive guidance and support
A flexible format: You'll learn through engaging video and can tune in anytime that works for you
Engage with students from around the world
Mentoring
You'll receive guidance from a mentor who can answer questions and provide support throughout the course. You can expect:
Encouragement and direction on all assignments
Inspiration and motivation to help you succeed
Brainstorming and ideation help as you prepare for your final project
Final Project
Build a biomedical engineering device and test it using verification and validation plans you develop in this course.
Create a video of your device in action.
Submit a final report summarizing your verification and validation with emphasis on:
- What met specifications and worked well
undefinedundefined
Course designed by Case Western Reserve University
Matt Williams, PhD
Assistant Professor, Biomedical Engineering, Case Western Reserve University
Matt Williams' course offers an emphasis on experiential learning, which includes engineering design, programming, data acquisition/processing, and fabrication. His research interests focus on the control of prosthetics and assistive technology for stroke and spinal cord injury.
How to Apply
It's easy. No transcripts or letters of recommendation are required. Our application will ask you to provide the following:
Basic contact information for you and your parents or guardian.
Why you wish to take this course. You can tell your story through writing, video, photos — any media you prefer.
Note: Please submit all application materials in English.
Begin the guided process. It should take only a few minutes of your time to answer the questions.
Apply Now
Want to Know More?
Sign up for more information and we'll be in touch.
Admissions
Our application is easy. You can expect a prompt decision.
Apply Now
Frequently asked questions
How will you be graded? What are assignments like? Are there required materials? How much time do you get to turn around a project? When do you found out if you're accepted?
Find answers to your questions
Scholarships
We offer need-based pre-college program scholarships in each cohort to students who need assistance with the program cost. The scholarship application is a part of the overall program application. 
If you would like to be considered for a scholarship but you:
The University reserves the right to modify the course as may become necessary.