Neuroscience +Live
Enjoy all the features of our Neuroscience course plus live sessions on select weekdays. These structured online events will include:
Guest speakers: Subject-matter experts and professors
Course mentors: Students and alumni who know the field
Interactive events: Engage with classmates from around the world
*Live sessions are subject to change.
Click below to receive a notification when the 2023 +Live application is open.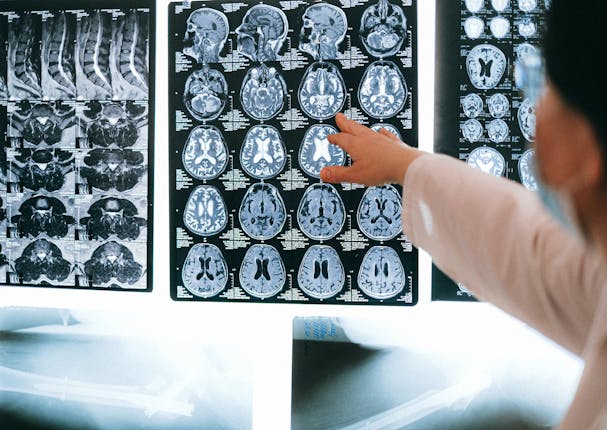 Sample +Live Schedule from Prior Year
This introductory session is designed to introduce you to the course, Canvas, and your live sessions. You'll learn how to use specific Canvas features that will help you complete this course, schedule and session details for your live sessions, and what it takes to earn your certificate of completion. The information in this session is also covered in the introduction module of your course so you can review the content on your own if you're not able to join the live walk through.

Guest speaker: Diane Feckanin, Associate Director Enrollment Management

During this session, learn about the admissions process for Case Western Reserve University and careers that are available if you're interested in Neuroscience. Featured guests include a representative from Case Western Reserve University's admissions Team. They're ready to answer any of your questions and provide you with their unique insights

Delve into common neurological conditions and how they are diagnosed. Neurologists consider a number of factors when meeting with a patient, including any self-identified symptoms, observations from family about the patient's behaviors and changes over time, images and brain scans, and sometimes measurements of the brain's electrical activity. This session provides an overview of diagnostics procedures and common tests used for diagnosis of different diseases and disorders.

Guest speaker: Dr. Christopher Cimino

In this interactive session, Dr. Christopher Cimino (Vice President of Academics for Kaplan Medical) will talk about his career, education path, and offer advice for students interested in neuroscience.

Dr. Christopher Cimino is board certified in neurology and clinical informatics with over 20 years of experience in clinical practice and medical education. Prior to coming to Kaplan, he was assistant dean for educational informatics at Einstein College of Medicine and most recently, associate dean of students at New York Medical College.

Guest speaker: Barbara Kuemerle

Understand how the brain changes as we age and answer such questions as: How does forming memories and learning change the structures of the brain? How do brains of people in various life stages differ: from babies all the way to the elderly? What brain changes lead to the ability to learn new things, and how does it change as memory declines?

Guest speaker: Dr. Christopher Cimino

During this interactive session, you will learn to identify the subtle, but important, findings that distinguish a minor neurological or behavioral problem from an emergency. A discussion of patient cases will help you understand the relationship between these findings and the underlying anatomy and physiology involved. You will also learn the common emergency interventions for these situations and why they work.

Discover up-and-coming technologies and innovations in brain research, such as AI and stem cell research. There will also be a discussion of the interdisciplinary elements of neuroscience, including electrical, chemical, and engineering.